The modified seed drill concept has been designed as an inspiration from customers, that demanded a compact mounted seed drill with soil preparation. Basis of this combination is seed drill MKC 300, which has a strong position in our product range, and its functionality is proven with years of use by many customers. The main design changes include new coulter bar with DXD RC II coulters and press wheels, innovated S-harrow bar, and elongated parallelogram arms.
The seed drill combination is characterized with high working speed up to 20 kph. One of the biggest advantage is also the use of this combination as 3 in 1:
Combination of seed drill with disc harrows
Combination of seed drill with universal chassis for solo seeding
Combination of seed drill with power harrow PSK 300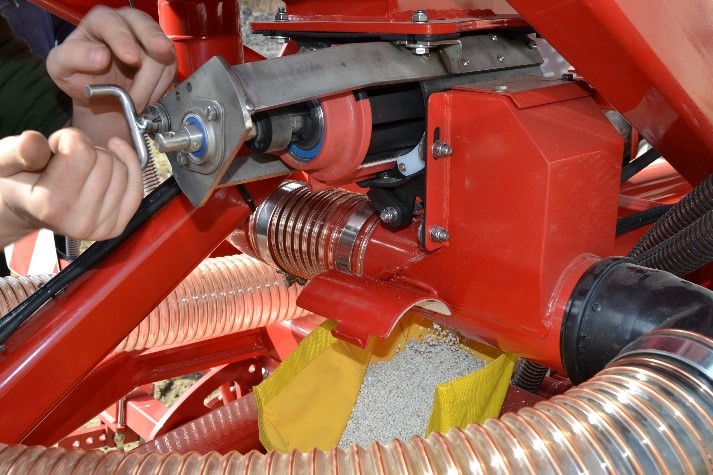 Dosing system
Central dosing is the heart of the whole system. It enables maximally precise metering of sowing in
the range 1 – 380kg per hectare. Pneumatic seed drills can be used not only for sowing cereals (wheat, barley, oat, rye), but also for sowing legumes and oil-bearing plants (pea, bean, vetch, maize, soya, rapeseed, clover etc.), and also for sowing grass seed with dimensions of grain from 1 mm to 10 mm. Good access to the dosing unit ensures easy setup and calibration. The operator will also appreciate the easy adjustment of macro and micro sowing. Seed drill DC Compact is equipped  with 1 dosing unit Accord.
Electronic and control units
Drillmat III
In standard equipment is the drive of dosing unit solved by drive of stepping wheel. In this case, the customer can use the simple electronic and control device Drillmat III, which offer : signaling of seed level, electronic hectare counter, ventilator speed signaling, dosing unit control, 2×2 el. magnetic shut off valves Accord for tramlining.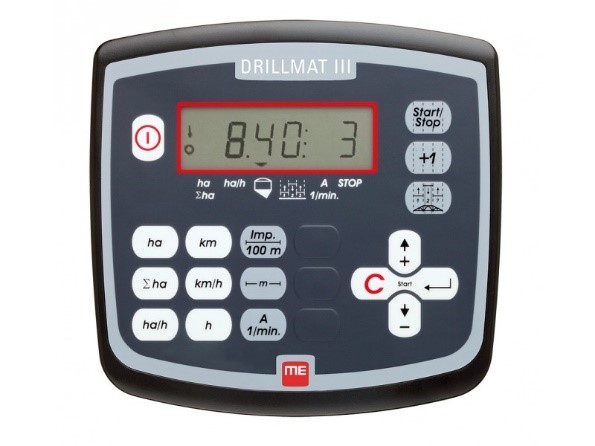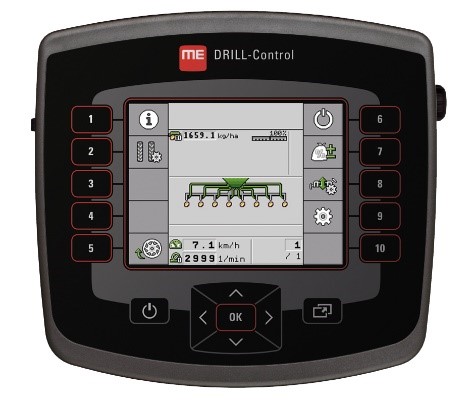 Drill Control
The seed drill can be equipped with the electronic drive of dosing unit Drill Control. This electronic and control device offers drive of one dosing unit using electric motor. Simple and accurate calibration is performed using the calibration button, another big advantage is to increase or decrease the seed rate while driving. In addition to these advantages it offers electronic equipment: signaling of seed level, electronic hectare counter, ventilator speed signaling, dosing unit control, 2×2 el. magnetic shut off valves Accord for tramlining.
Hopper and operator platform
Seed drill is equipped as standard with a 1150 liters hopper with the possibility to increase the volume on 1300 liters. Operator platform ensures convenient access to the hopper, which makes it easier and more secure to fill and clean the machine. Large filling opening is equipped with a sieve to catch any types of dirt, and its dimensions offers high comfort during filling.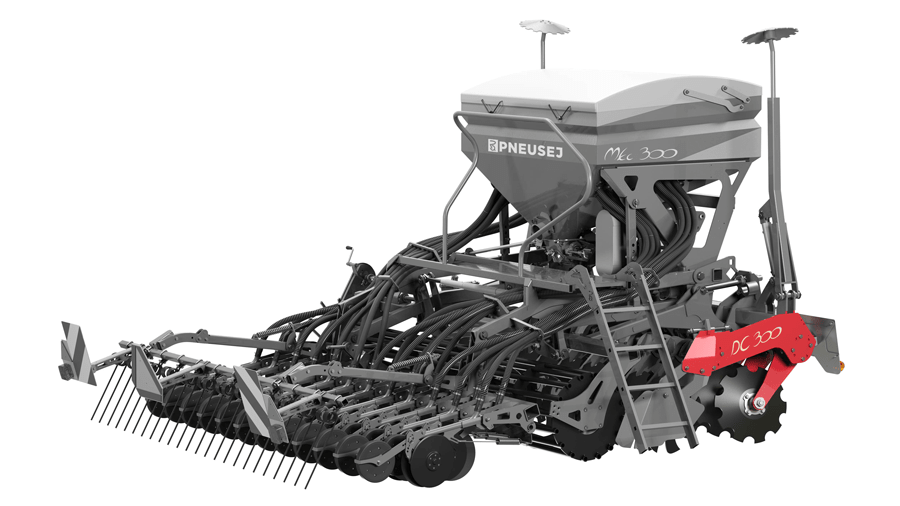 1. Disc soil preparation
Passive soil preparation with disc cultivator allows use of the machine with high speed even in fields with high amount of crop residue. Special disc shape with a diameter ø 460 or ø 510 mm together with separately suspended holder ensures maximum throughput without clogging.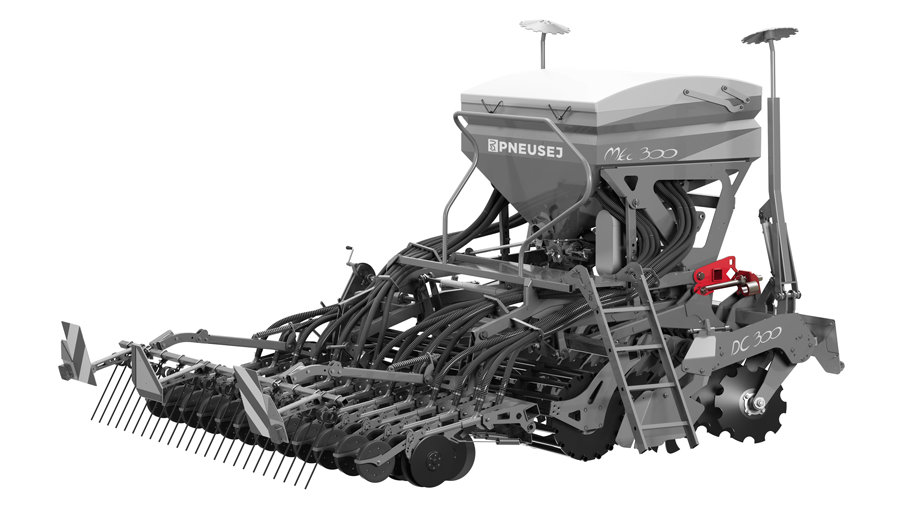 2. Tillage depth settings
For creation of optimum seed bed, it is very important to set the proper tillage depth, which can be adjusted up to 15 cm. The tillage depth can be adjusted using hooks on the guide arms, that are located on the side of seed drill. The tillage depth adjustment is very simple and accessible to the operator.
3. Roller
Roller mounted on disc harrow serves as a support to the machine and to keep proper tillage depth. As standard, the machine is equipped with cage roller with diameter ø 550 mm, or rubber roller with diameter ø 500 mm. Rubber roller is designed for lighter soils. The distribution of rubber rings is the same as row spacing, which prepares equal conditions for every coulter. Cage roller is designed to work in heavier soils. The rolling resistance is low thanks to its large diameter. It is made out of 16 pipes with a diameter ø 38 mm.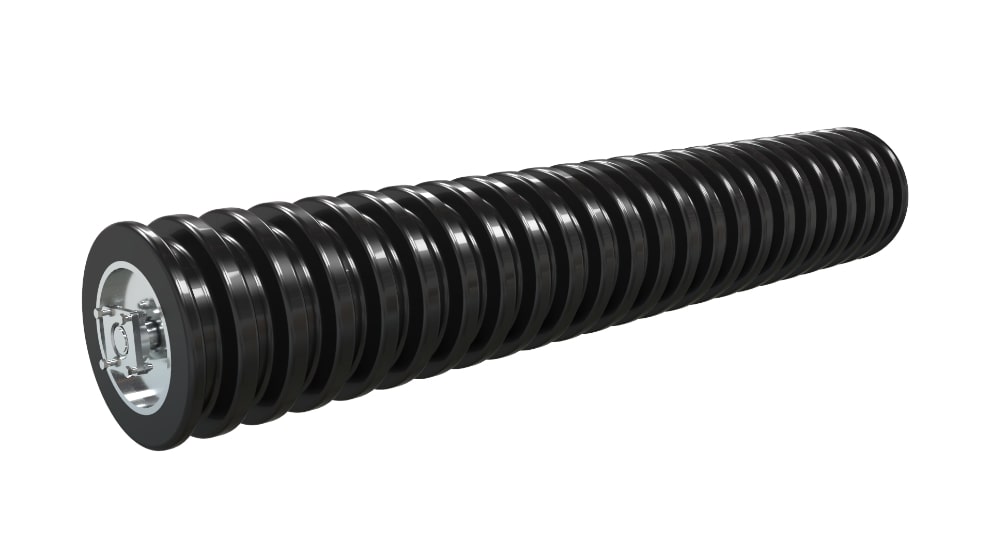 Rubber roller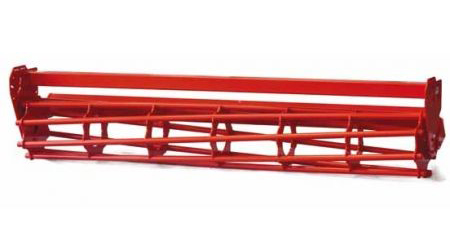 Cage roller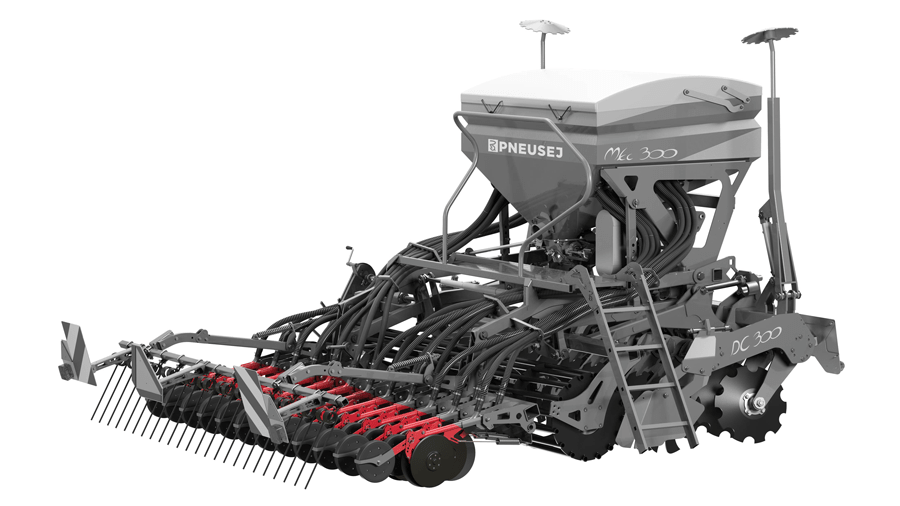 4. Sowing coulters RC II
Innovative design of DXD RC II coulters allow seeding in the heaviest soils with high amount of crop residue. Offset of discs with diameter ø 325 mm causes self-cleaning effect, which reduces sticking the soil to discs and minimizes clogging. Centrally adjustable coulter pressure is 50 kg. Customers can choose between metal and plastic cleaning disc, depending on seeding conditions.
5. Pressure wheels
Pressing wheels may be used for all type of DXD coulters. Wheels helps to maintain proper seeding depth and ensures better emergency in light soils and in dry climate conditions. Seed placement stays constant even in higher seeding speeds.
| Sejací stroj | DC Compact 300 |
| --- | --- |
| Pracovný záber (m) | 3 |
| Pracovná šírka (m) | 3 |
| Počet riadkov (pcs) | 20/24 |
| Šírka riadkov (cm) | 15/12,5 |
| Prepravná šírka (cm) | 300 |
| Kapacita zásobníka (l) | 1150/1300 |
| Výsevné jednotky | DXD RCII |
| Prítlak výsevných jednotiek na jednu pätku (kg) | 50 |
| Nastavenie prítlaku | centrálne |
| Pohon ventilátora | hydraulicky |
| Hmotnosť bez osiva od (kg) | 2940 |
| Potrebná ťažná sila (HP) | 180 |
| Potrebná ťažná sila (kW) | 134 |
| Pracovná rýchlosť (km/h) | 10-20 |
| Taniere na príprav u pôdy (Ø mm) | 460 alebo 510 |
| Výkonnosť (ha/h) | 4-7 |
| Pripojenie | 3- bodový záves kat.III |
| Rozmer plniaceho otovoru (m) | 1,34x1,22 |
| Výška plnenia (m) | 2,1 |