Seed drill designed to meet the requirement of every farmer. Pneusej Venga is a lightweight machine with completely new design. Thanks to modular design the machine is produced in two versions – trailed and mounted. Using integrated hydraulic axle in trailed version, the power requirements are decreased, making this machine suitable for tractors from 80 HP.
The seed drill is produced in woriknd widths of 4-4,5-5-6 meters. Hopper of the seed drill have a capacity 1,800 liters. New design offers the possibility to use DXD RC II coulters, which put the seed into the bottom of seed bed with high precision. Pneusej Venga is designed to increase field efficiency together with lowering power requirements. Pneusej Venga – reduces inputs, increases yields.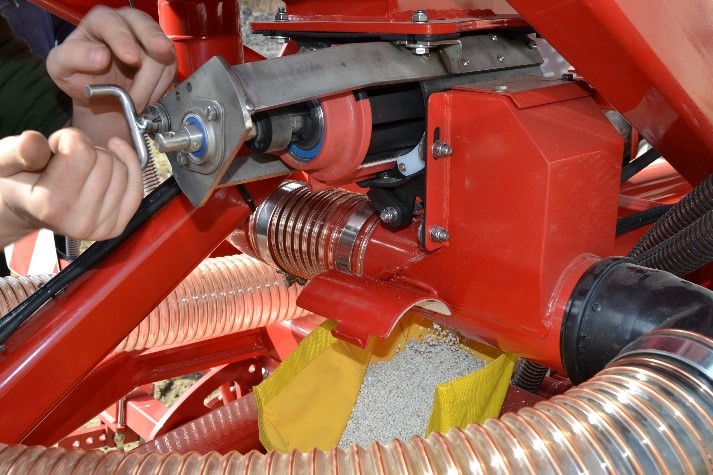 Dosing system
Central feeding is the heart of the whole system. It enables maximally precise metering of sowing in the range  – 380kg per hectare. The central completely closed seed roller precisely proportionates the seed and supplies it to the injector canal, where it is mixed with a stream of air from the ventilator, and then it goes to the distributor through the diffusion tube, and goes further into the individual sowing coulters through the seed tubes. The residual seed in the hopper is minimal and can be spilt out by means of discharging flap.
Electronic and control units
Drillmat III
In standard equipment is the drive of dosing unit solved by drive of stepping wheel. In this case, the customer can use the simple electronic and control device Drillmat III, which offer : signaling of seed level, electronic hectare counter, ventilator speed signaling, dosing unit control, 2×2 el. magnetic shut off valves Accord for tramlining.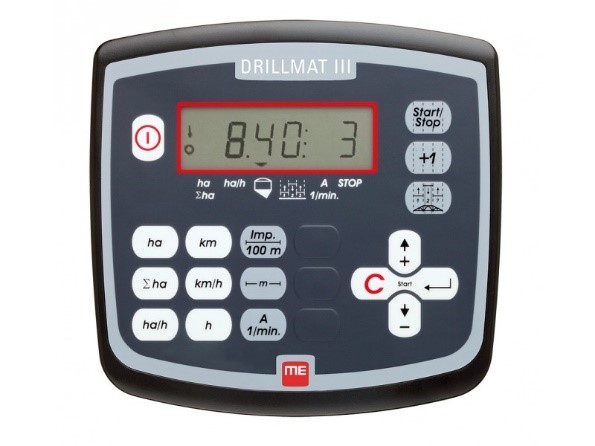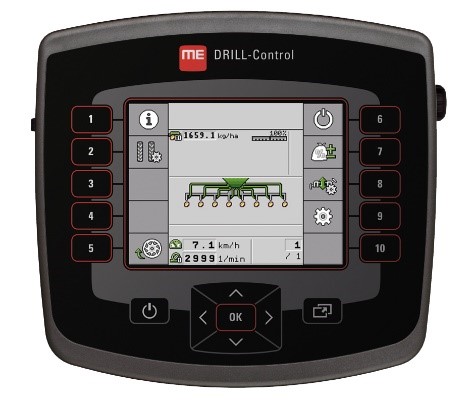 Drill Control
The seed drill can be equipped with the electronic drive of dosing unit Drill Control. This electronic and control device offers drive of one dosing unit using electric motor. Simple and accurate calibration is performed using the calibration button, another big advantage is to increase or decrease the seed rate while driving. In addition to these advantages it offers electronic equipment: signaling of seed level, electronic hectare counter, ventilator speed signaling, dosing unit control, 2×2 el. magnetic shut off valves Accord for tramlining.
Hopper
The seed hopper with capacity of 1,800 liters minimizes downtime. Great accessibility makes filling and cleaning easy. Self-rolling covering canvas enables whole filling opening, preventing it to obstruct during filling with big-bags.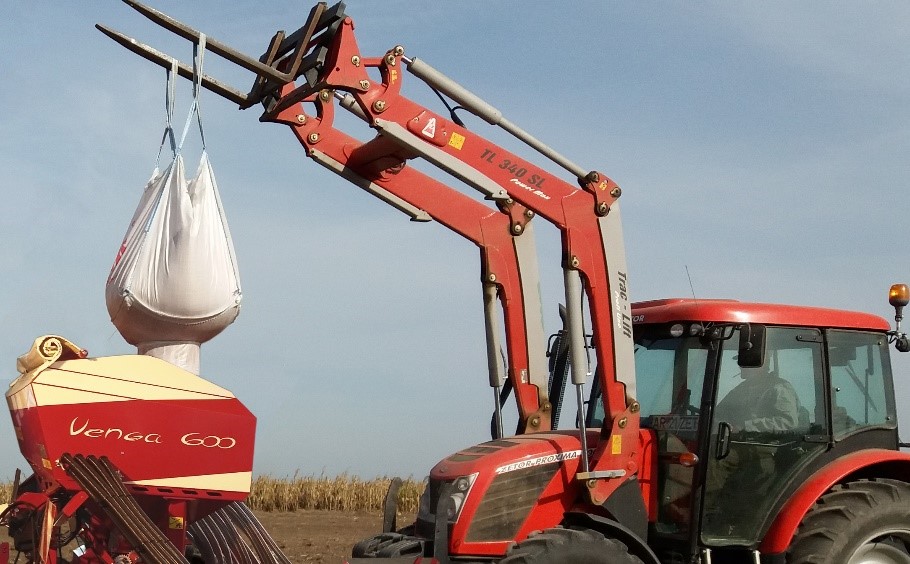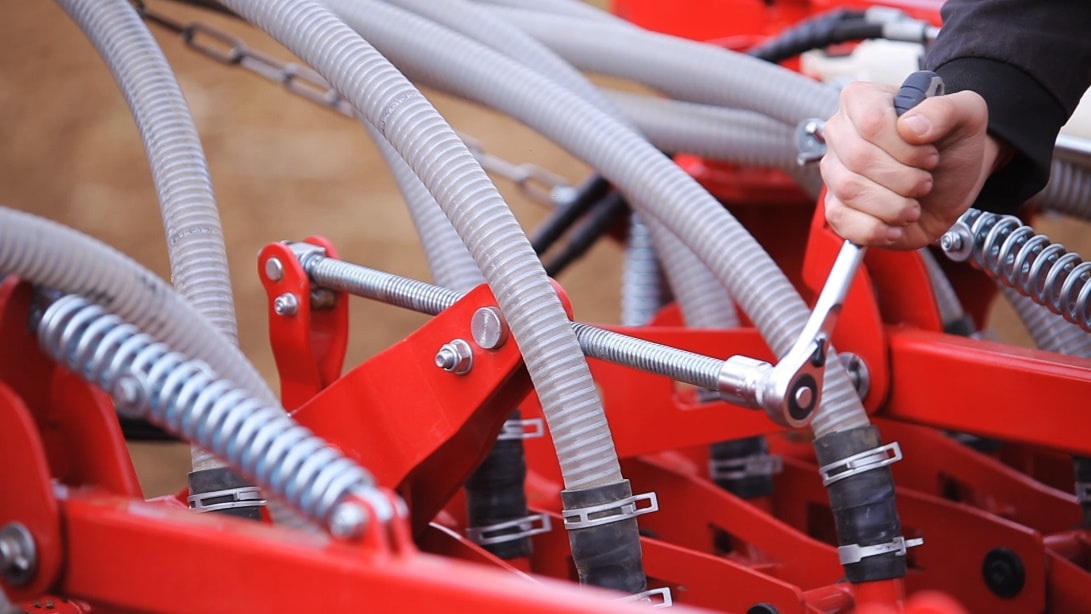 Operator comfort
Comfort of the operator includes centrally adjustable coulter pressure, simple macro and micro seed rate adjustment, convenient access to the hopper and its filling. Farmers will also appreciate high field efficiency with low power requirement and simple operation. All of these factors maked seed drill Venga a unique machine.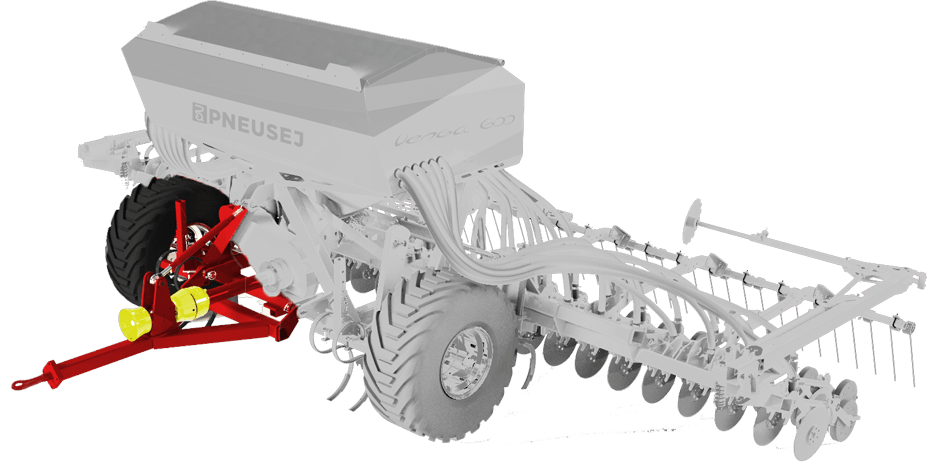 1. Modular system
Modular system allows production of this machine in trailed or mounted version. Integrated hydraulic axle carries the entire machine weight, which reduces tractor power requirements. Axle is placed in front of coulters, which provides better stability and control, and seeding from the edge of a field.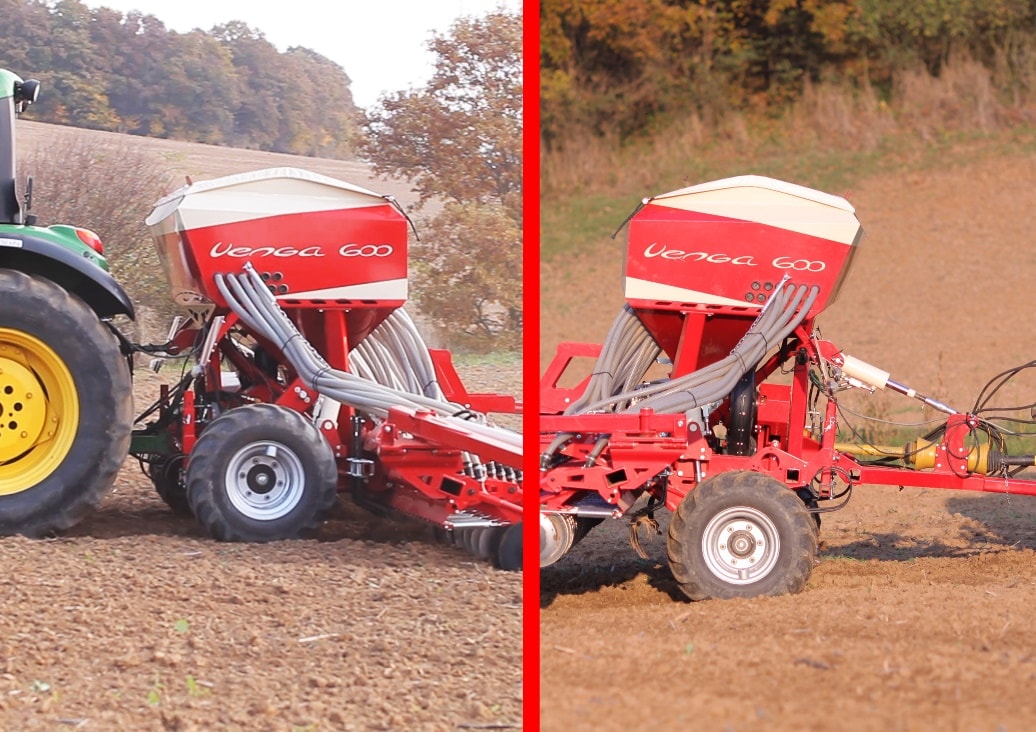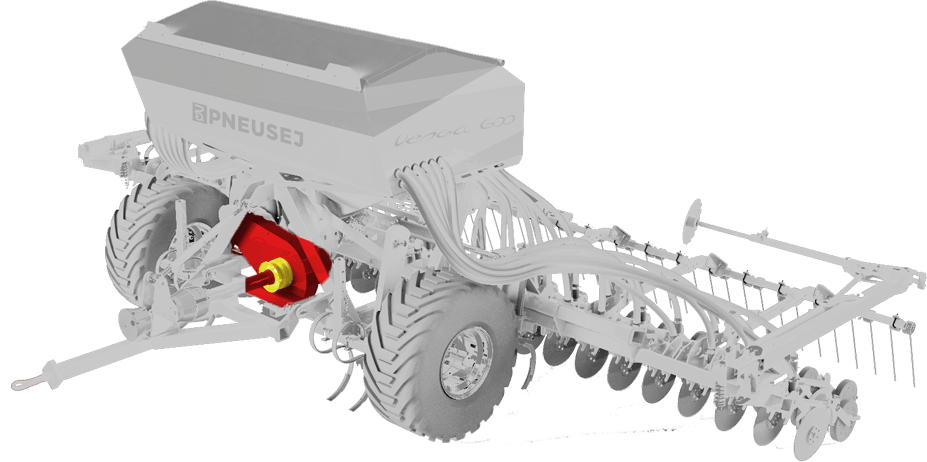 2. Drive of ventilator
In standard equipment is the seed drill to use with mechanical drive of ventilator, which is specific for low cost maintenance. In additional equipment is possible  to equip the machine with hydraulic drive of ventilator, that improves user comfort and ventilator life.
Mechanical drive of ventilator
Hydraulic drive of ventilator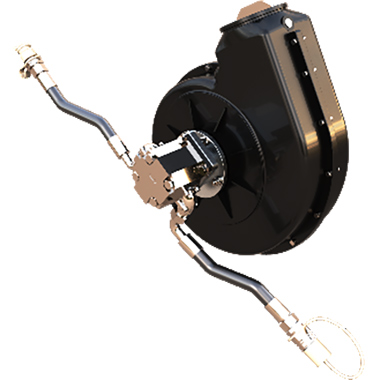 Hydraulic drive of ventilator for tractors with valve for flow control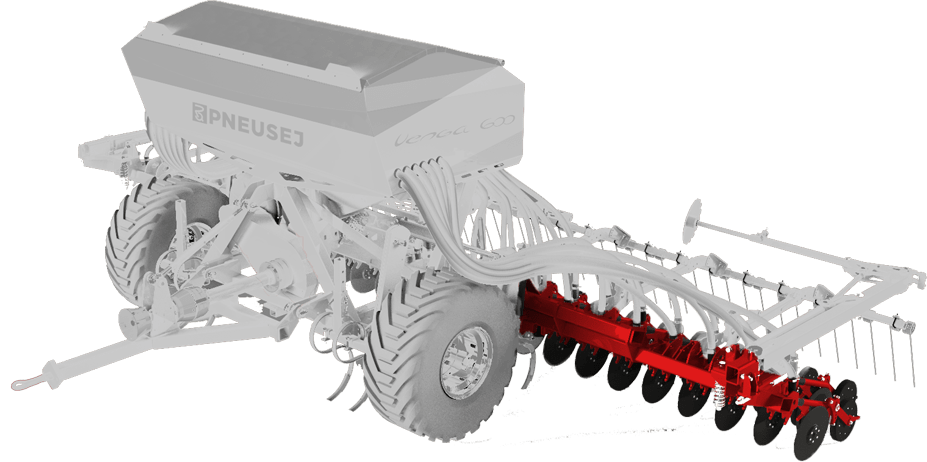 3. Sowing coulters
Innovative design of DXD RC II coulters allow seeding in the heaviest soils with high amount of crop residue. Offset of discs with diameter ø 325 mm causes self-cleaning effect, which reduces sticking the soil to discs and minimizes clogging. Centrally adjustable coulter pressure is 50 kg. Customers can choose between metal and plastic cleaning disc, depending on seeding conditions.
4. Disc markers
Farmers will appreciate the design of markers, that allow seeding under trees and other obstacles. The disc diameter together with fully adjustable disc angle ensures visible marking even in the hardest conditions. Special construction ensures quick folding, which reduces turn-time on headland and makes it easier to seed around obstacles.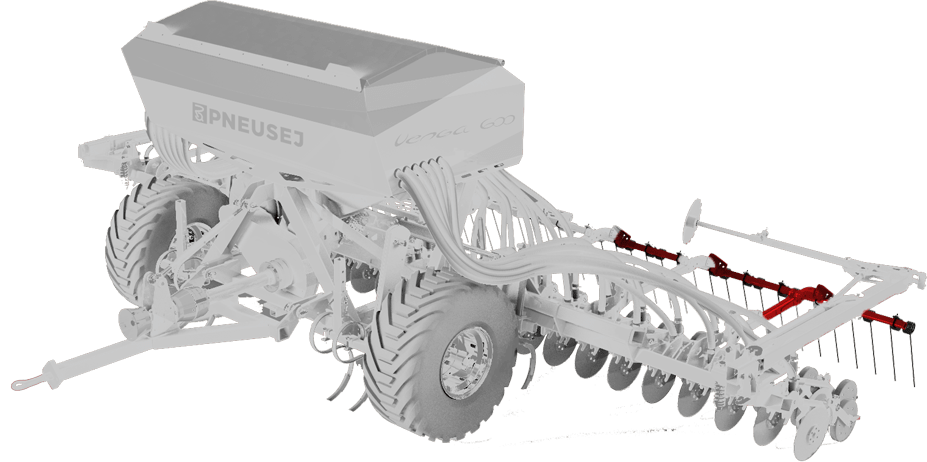 5. Beam of S-harrow springs
Beam of S-harrow springs takes care of optimal seed covering even in a condition with high amount of crop residue. Big advantage is adjustment of angle and pressure of harrows.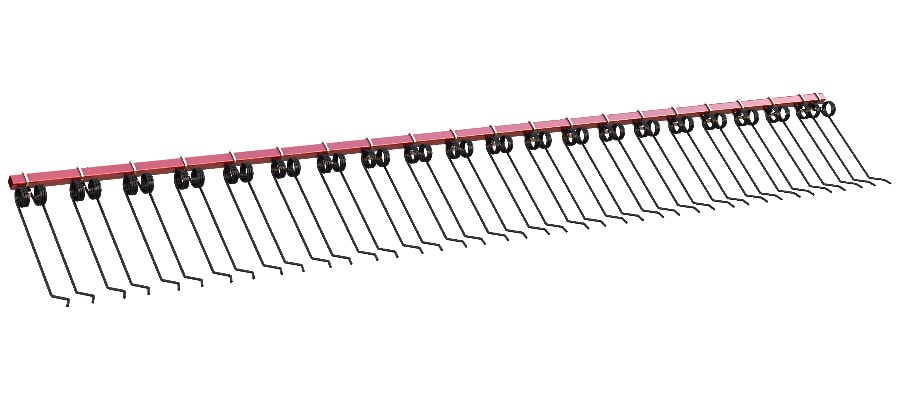 [box content="‹¨›p‹˜›‹º›table-responsive‹¹›‹º›table id‹´›29 /‹¹›‹º›/table-responsive‹¹›‹¨›/p‹˜›" custom_classes="c-box--sm" __fw_editor_shortcodes_id="e193f18bcbbf92b7a175afe0354f29fb" _fw_coder="aggressive"][/box]
[media_masonry_gallery images="‹º›{‹²›attachment_id‹²›:822,‹²›url‹²›:‹²›https://pneusej.sk/wp-content/uploads/2018/12/Venga.jpg‹²›},{‹²›attachment_id‹²›:823,‹²›url‹²›:‹²›https://pneusej.sk/wp-content/uploads/2018/12/Venga1.jpg‹²›},{‹²›attachment_id‹²›:824,‹²›url‹²›:‹²›https://pneusej.sk/wp-content/uploads/2018/12/Venga2.jpg‹²›},{‹²›attachment_id‹²›:825,‹²›url‹²›:‹²›https://pneusej.sk/wp-content/uploads/2018/12/Venga3.jpg‹²›}‹¹›" __fw_editor_shortcodes_id="44bf601487064d83f463ad9e996a1cc6" _array_keys="{‹²›images‹²›:‹²›images‹²›}" _fw_coder="aggressive"][/media_masonry_gallery][divider style="{‹²›ruler_type‹²›:‹²›space‹²›,‹²›space‹²›:{‹²›height‹²›:‹²›50‹²›}}" __fw_editor_shortcodes_id="e394e98db52bf76dcb25c4a631112cfc" _array_keys="{‹²›style‹²›:‹²›style‹²›}" _fw_coder="aggressive"][/divider][media_video_popup video_type="{‹²›video_type_choices‹²›:‹²›url‹²›,‹²›url‹²›:{‹²›url_link‹²›:‹²›https://www.youtube.com/watch?v‹´›DHVDJABWUfQ‹²›},‹²›video_file‹²›:{‹²›video_file_uploaded‹²›:‹²›‹²›}}" image="{‹²›attachment_id‹²›:‹²›180‹²›,‹²›url‹²›:‹²›https://pneusej.sk/wp-content/uploads/2018/12/venga-min.jpg‹²›}" width="" height="" classes="" __fw_editor_shortcodes_id="433e49444ba25ca86315d3758e0a1c37" _array_keys="{‹²›video_type‹²›:‹²›video_type‹²›,‹²›image‹²›:‹²›image‹²›}" _fw_coder="aggressive"][/media_video_popup]